Board of Directors 2021/22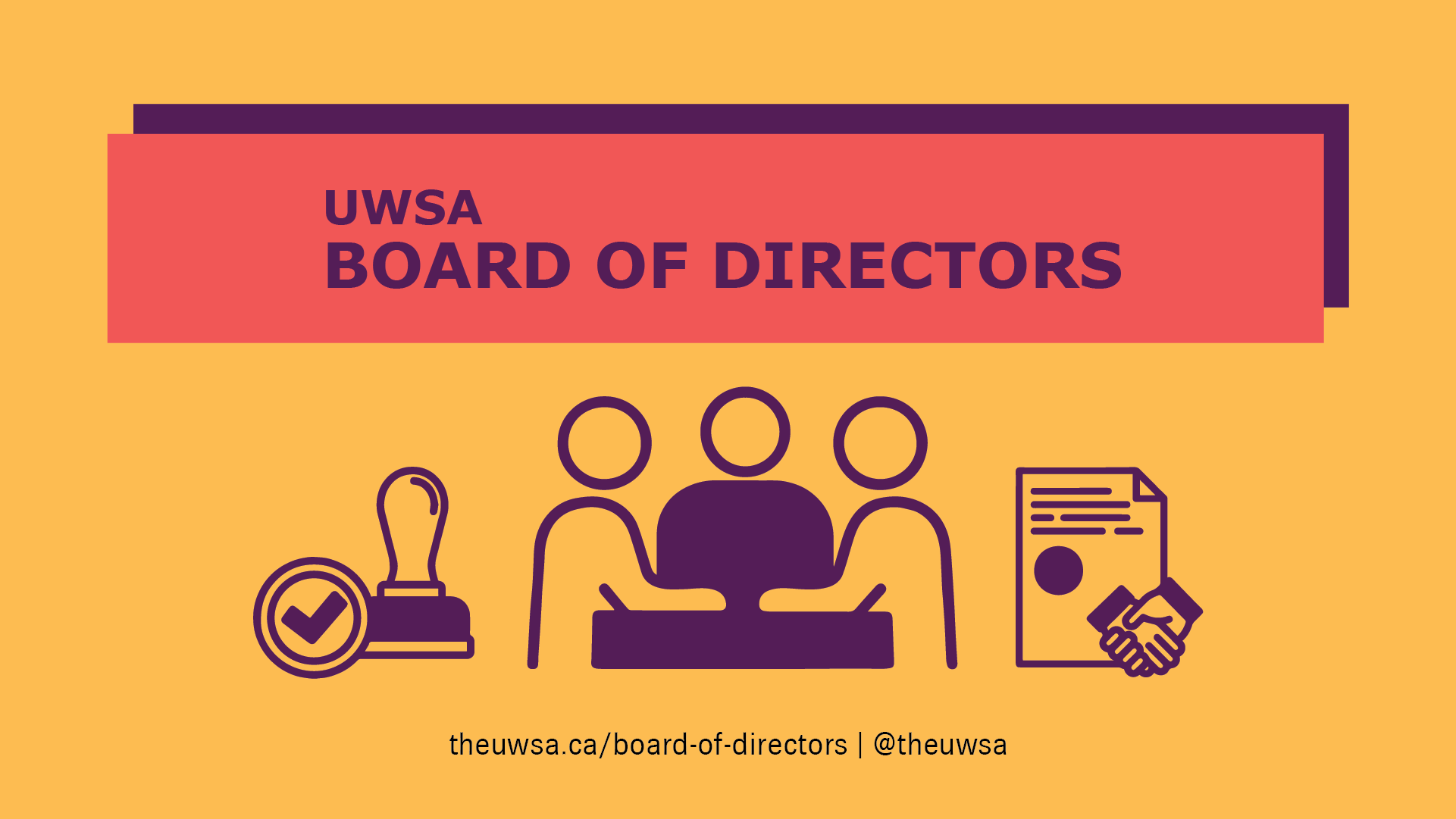 The next UWSA Board of Director Meeting is on Wednesday, December 1, at 5:30 PM.
All UWinnipeg students are welcome to attend Open Session. Please email t.hanan@theuwsa.ca by 4.30 PM on the day of the meeting for the Zoom link using your UWinnipeg webmail address and your Student ID Number.
Please review the following documents before the meeting:
All participants are expected to abide by the University's Respectful Work and Learning Environment Policy.
CHAIR OF THE BOARD OF DIRECTORS
Anjola Aderinto
chair@theuwsa.ca
SECRETARY OF THE BOARD OF DIRECTORS
Hasini Abeysekera
secretary@theuwsa.ca
Board of Directors 2021/22
Board Of Directors Biographies
Sarah Anderson
Accessibility Director
Email: s.anderson@theuwsa.ca
Umar Awan
Arts Director
Email: u.awan@theuwsa.ca
Bedel Shafe'a
Business and Economics Director
Email: b.shafea@theuwsa.ca
Shawna Péloquin
Community Liaison Director
Email: s.peloquin@theuwsa.ca
VACANT
Education Director
Email: education@theuwsa.ca
Chhavi Dhir
Emerging Leader Director (1 Year Term)
Email: c.dhir@theuwsa.ca
Karanpartap Singh
Emerging Leader Director (1 Year Term)
Email: ka.singh@theuwsa.ca
Faith Marcial
Emerging Leader Director (2 Year Term)
Email: f.marcial@theuwsa.ca
Deep Thind and Amanpreet Singh Gill
Emerging Leader Co-Director (2 Year Term)
Email: d.thind@theuwsa.ca and a.gill@theuwsa.ca
Adhiraj S. Majumder and Navdeep Singh
Environmental Ethics Co-Directors
Email: a.majumder@theuwsa.ca and n.singh@theuwsa.ca
Jude Obidiagha
Graduate Students' Director
Email: j.obidiagha@theuwsa.ca
Gracie Grift
Indigenous Students' Director
Email: isa@theuwsa.ca
Riya Katia and Priyanshu Setia
International Students' Co-Directors
Email: r.katia@theuwsa.ca and p.setia@theuwsa.ca
VACANT
2SLGBTQ* Director
Email: 2slgbtq@theuwsa.ca
To be Announced
Menno Simons College Director
Email: mennosimons@theuwsa.ca
Clifford Stornel
Part-Time/Mature Students' Director
Email: c.stornel@theuwsa.ca
Ripanjot Kaur Gill and Will Sass
Recreation & Athletics Co-Directors
Email: r.gill@theuwsa.ca and w.sass@theuwsa.ca
VACANT
PACE Students' Director
pace@theuwsa.ca
Manjot Singh Sembhi and Shubham Kumaar
Racialized Students' Co-Director
Email: m.sembhi@theuwsa.ca and s.kumar@theuwsa.ca
Bavleen Kaur
Science Director
Email: b.kaur@theuwsa.ca
Ifeoma S. Onyekwelu
Student Living Director
Email: i.onyekwelu@theuwsa.ca
Dagen Perrott
Urban Inner-City Campus Director
Email: d.perott@theuwsa.ca
Mansi K. Joshi and Gursimran Kaur
Women, Trans & Non-Binary Students' Co-Directors
Email: m.joshi@theuwsa.ca and g.kaur@theuwsa.ca
University of Winnipeg Senate Student Representatives
Althea Dunlop
UWinnipeg Board of Regents Student Representative
Princess Egwu
STUDENTS-AT-LARGE
To be announced
BoD Meeting Procedure Documents:
UWSA Rules of Order
Respectful Working and Learning Environment Policy Presentation PDF
Policy Manual Feb 2021
By-laws Feb 2021
Board Meeting Agenda 2021/22:
Board Meeting Package 2021/22: each open package includes minutes of the meeting
August 25, 2021 OPEN PACKAGE – Amended
 September 29, 2021 OPEN PACKAGE
November 3, 2021, OPEN Package
By-Law Amendments 2020/21:
By-law Amendments and Senator Appointments, for Approval
IAC By-laws Motion – For August 19 Board of Directors Meeting.
COB By-law Amendments – For August 26 Board of Directors Meeting.
UWSA Rules of Order By-Law and Policy amendment – September 16 BoD Meeting
Emergency Measures By-law Package – September 16 BoD Meeting
By-Law and Policy Amendment Proposal – October 29, 2020
Student Senate Caucus By-law Amendments – For January 13, 2021 Board of Directors Meeting
General Meetings:
2019 AGM Minutes
2020 AGM Package
Writing Motions