Snowed In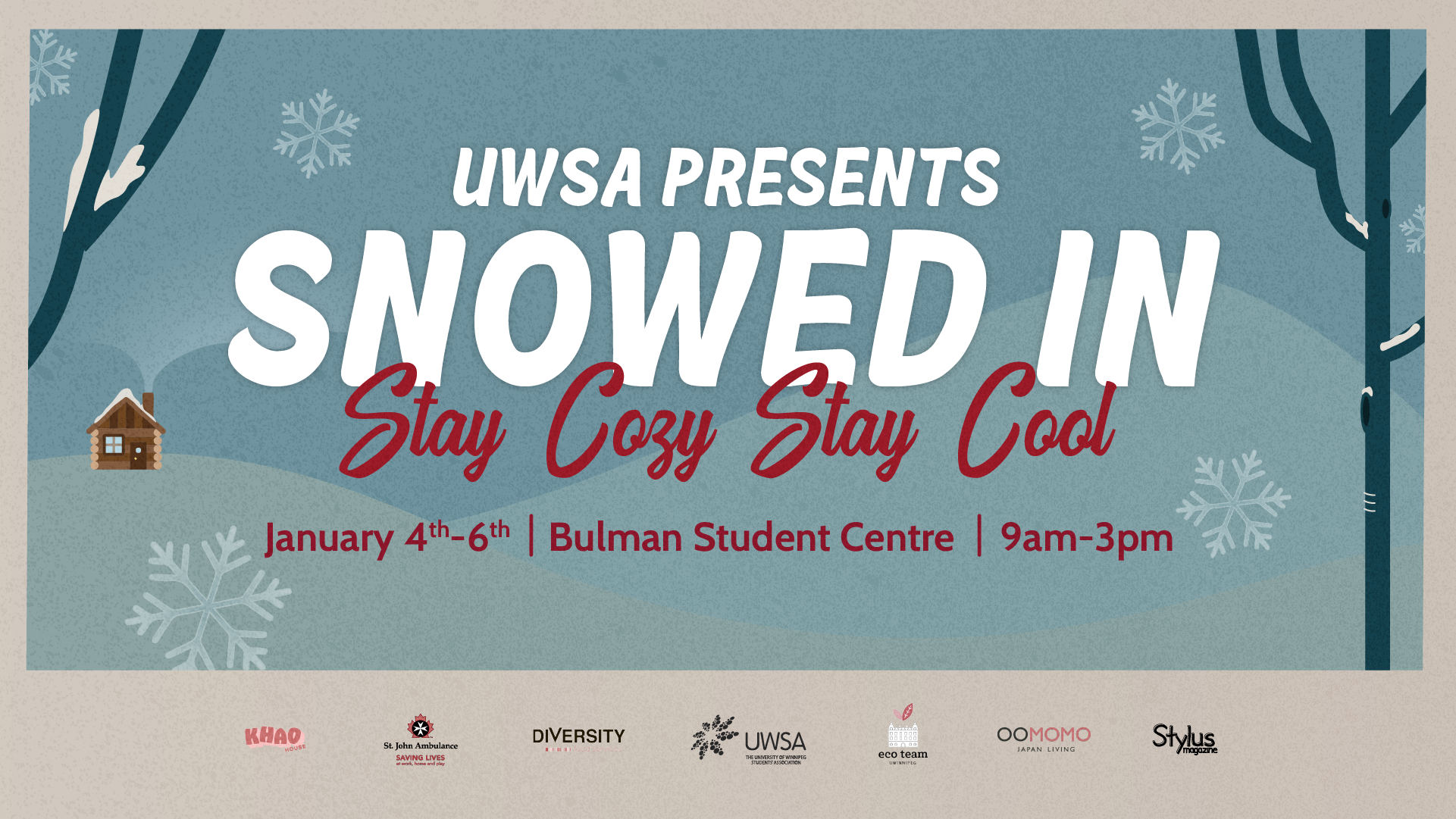 Snowed In 2023 will take place on January 4-6, 2023!
Bulman Student Centre

This year's Snowed In features a broad series of free events and activities.
---
Schedule
Daily 9:00 AM – 3:00 PM
Student Group Fair
Board Games, Big Games & Table Tennis
Art Corner
Stop by to de-stress, paint, collage, or colour at our art corner daily. Bring your creation home or decorate our trees with your art!
Oomomo Mini Market
Oomomo will host a mini-market with back-to-school goodies, Japanese drinks and snacks, and more each day in the Bulman! Debit/credit only.  
Complimentary Breakfast, Coffee, Hot Chocolate and Cartoons
9:00 AM – 11:30 AM
Free Lunch from Diversity & Khao House
Noon – Until Supplies Run Out
Doggo Days Visit
12:30 PM – 2:00 PM
Enjoy a visit from one of our doggo friends each afternoon to celebrate the return of Doggo Days every last Thursday of the month!
---
Wednesday, January 4, 2023
Do You Want to Build a Snowman Contest
1:00 PM – 3:00 PM
Dress warmly and meet us on the Front Lawn at 1:00 PM to compete in our snowman-building contest. We will provide some decorating supplies, but feel free to bring your own wild accessories as well! Prizes to be won!
*Weather permitting.
---
Thursday, January 5, 2023
Musical Chairs | Bulman Student Centre
1:00 PM
Participate in the most classic of party games in the Bulman at 1:00 PM. The winner gets a prize and bragging rights!
Student Ice Skate at The Forks
4:30 PM – 5:30 PM

Our pre-register has hit its capacity! You can still come to the group ice skate at The Forks. Bring your own skates or tell us your shoe/skate size when you pre-register, and we'll cover your rental! Meet at the Iceland Skate Rentals in The Forks Market Tower Atrium, next to The Mini-Donut Factory.
*Weather permitting.
---
Friday, January 6, 2023
Eco Team Film Screening
12:30 PM
Join UWinnipeg's Eco Team in the Bulman at 12:30 PM to watch a film and learn about Campus Sustainability. Snacks and Refreshments are provided!
About the film: Western views and the legal system tend to view nature as property and as a resource from which wealth is extracted, a commodity whose only value is to provide for human needs. But for millennia, indigenous communities have viewed themselves as part of nature.
As pressures on ecosystems mount and as conventional laws seem increasingly inadequate to address environmental degradation, communities, cities, regions and countries around the world are turning to a new legal strategy known as The Rights of Nature. This film takes viewers on a journey that explores the more recent origins of this legal concept and its application and implementation in Ecuador, New Zealand, and the United States.
Stylus Collage Corner
1:00 PM
Immerse yourself in art therapy by making collage art hosted by Stylus Magazine.
Questions? Reach us at events@theuwsa.ca
Please review our UWSA Events Safer Space Policy