Truth and Reconciliation Week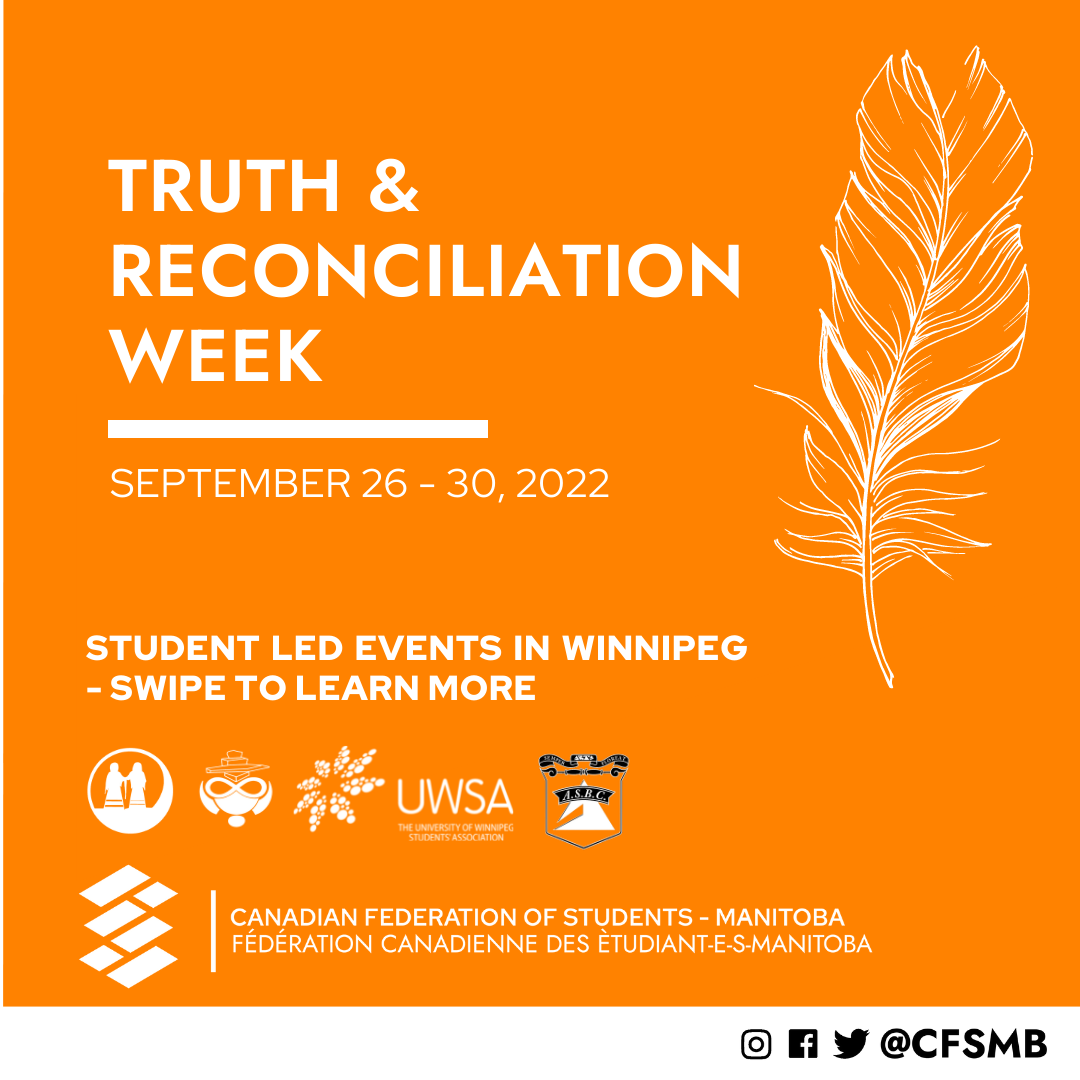 To honour the real history of Canada and those who continue to fight for Truth and Reconciliation, The University of Winnipeg Students' Association (UWSA) is partnering with the Canadian Federation of Students-Manitoba. We want to highlight the student-led events and initiatives for the week of Truth and Reconciliation.
We hope this programming provides healing, a cultural connection to those who need it, and a learning opportunity for those willing to be better allies. We want to thank the associations above for the work they do for their community.
Join us for Truth and Reconciliation Week and reflect on what Truth and Reconciliation mean to you as a UofW student!   
Questions? Reach us at events@theuwsa.ca 
Please review our UWSA Events Safer Space Policy 
You can find a list of Indigenous Resources here: Indigenous History Month Resources. Please keep in mind that this list is growing.  
Suggested Readings: 
UWSA Reconciliation and Decolonization page: Reconciliation and Decolonization Page 
Truth and Reconciliation Calls to Action: Truth and Reconciliation Calls to Action 
Five Years after the Truth and Reconciliation Commission's Report and Calls to Action: https://theuwsa.ca/2020/12/5-years-trc/ 
Schedule
Monday, September 26
Opening Ceremony and Smudging Station
11 am – 3 pm | The University of Winnipeg Quad
The UWSA will host a free orange shirt giveaway and smudge station with VPEA Jonathan Henderson. Opening words and prayers by Elder Geraldine Shingoose.
About Smudging:
Smudging carries with it significant meanings for Indigenous people. With medicine consisting of sweetgrass, cedar, sage and tobacco, smudging is a healing ceremony that removes negative energies and allows positive ones to remain. The practice of smudging is integral to revitalizing Indigenous cultures and communities as it provides a means of healing from the violence of colonization.
An Evening with Geraldine Shingoose
6 pm – 9 pm | Riddell Hall
Host: Ray Stevenson
Keynote Speaker: Geraldine Shingoose
Learn and commemorate the truth of our history with well-known Elder and residential school survivor Geraldine 'Gramma' Shingoose for Truth and Reconciliation Week. Refreshments will be provided.
Gramma Shingoose, who also goes by her spirit names of Sky Woman and Northern Lights Woman, comes from the Bear Clan. She is a Salteaux Woman from Tootinaowaziibeeng First Nation, Treaty 4 Territory. Geraldine is a 9-year Residential School Survivor. Years later, she sought out the teachings of her elders to connect with her identity and her ancestral knowledge, disconnecting from harmful colonial teachings.
Today Geraldine highlights the importance of Elders passing knowledge onto the new generation while also believing that the inclusion of youths' insights is integral to future teachings.
Friday, September 30 – National Day for Truth and Reconciliation and Orange Shirt Day 
The University of Winnipeg campus will be closed. There are no classes on this day.