Annual General Meeting
UWSA Special General Meeting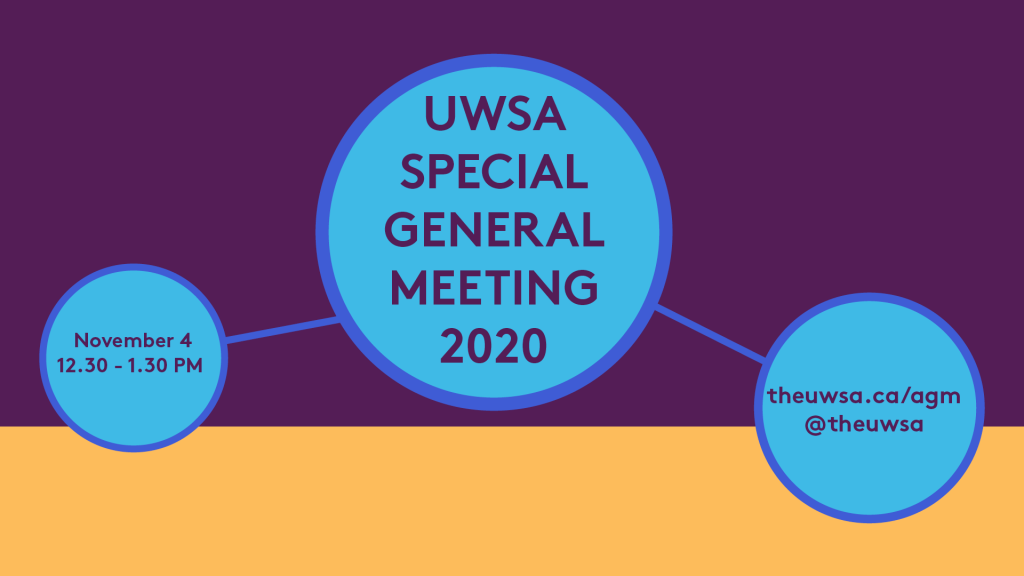 Join us for the 2020 Special General Meeting on November 4 from 12.30 – 1.30 PM. The SGM is a chance for UWSA members to receive an update on the budget and operations, meet the directors elected in the By-Election, and propose motions.
The 2020 SGM will be held via Zoom.
To pre-register, please email us at j.black@theuwsa.ca using your WebMail and include your student number in the e-mail. Food vouchers will be provided at the event.
SGM Agenda and Package
SGM 2020 Agenda
2019 Audited Financial Statements
AGM 2020 PACKAGE
Operating Budget 2020-21
Submitting Motions
Motions for the SGM must be submitted to the Chair of the Board at chair@theuwsa.ca by October 21.
Read our guide on how to write a motion here: How to Write a Motion
Questions? Email chair@theuwsa.ca or j.black@theuwsa.ca. 
UWSA Annual General Meeting
Every year, we hold an annual general meeting close to the end of the Winter Term to connect with students and present on the year.
The AGM is a chance for the UWSA to:
Report on the year's accomplishments
Propose updates to the bylaws & policies
Present the budget for the upcoming year
Hear proposals from the membership
The 2019/20 UWSA Annual General Meeting was cancelled in compliance with University of Winnipeg's closure and public health recommendations of limiting gathering to a maximum of 10 people.
Students can review the 2020 AGM package below.
2019/20 Report of the Board of Directors
2019/20 Report of the By-law and Policy Committee
UWSA 2019/20 – Financial Statements
UWSA 2019 – Report of the Auditor
Financial Report – March 2020
Approved Budget 2020/21 
*Package is available in other formats. Please contact the General Manager at j.black@theuwsa.ca for alternate format requests, questions, and concerns.
Please click here for the last AGM meeting minutes: 2019 AGM Minutes