Non-Academic Misconduct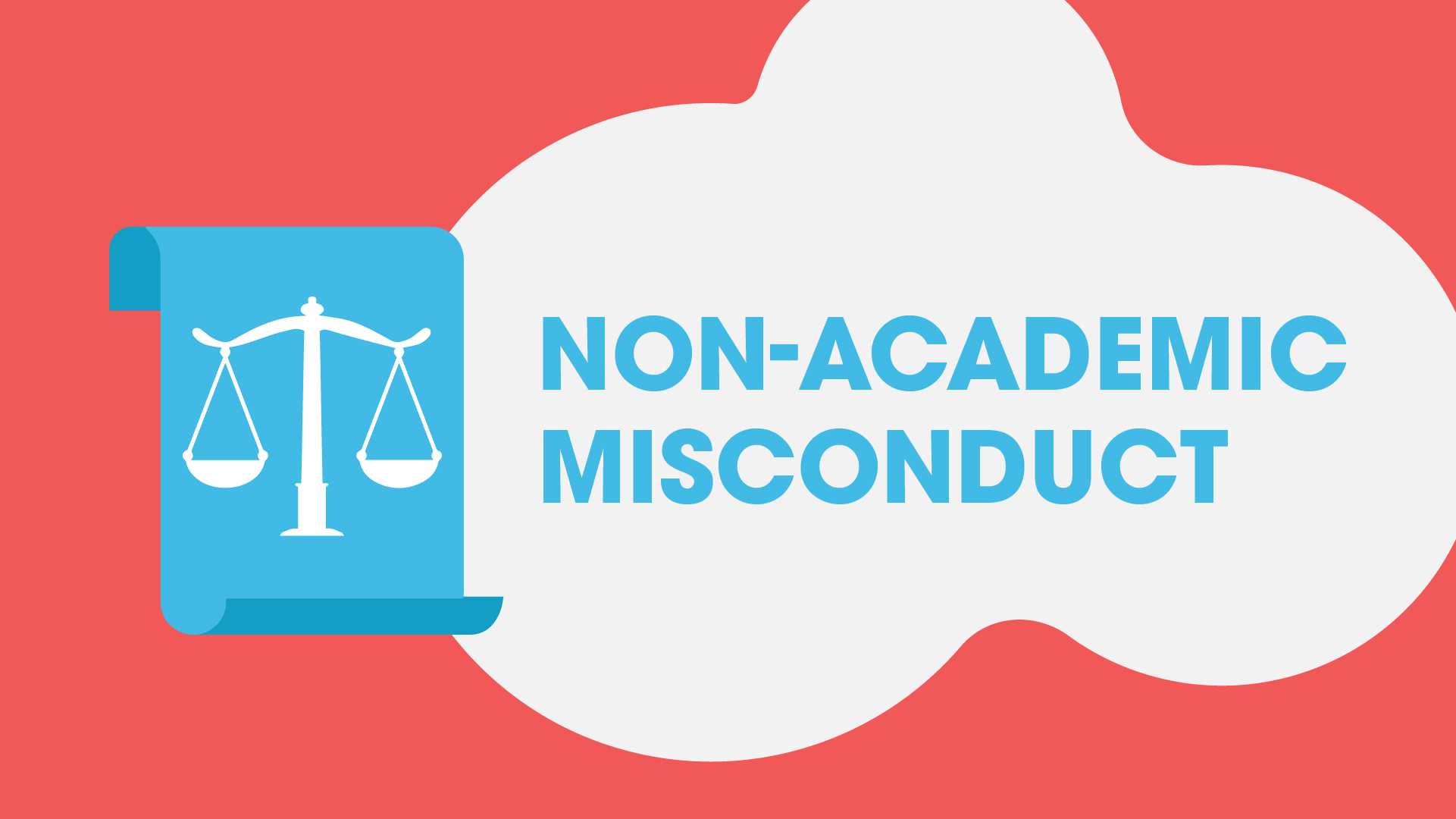 The University of Winnipeg Students' Association (UWSA) is there to advocate for students dealing with non-academic misconduct procedures. Non-academic misconduct includes but is not limited to the following:
Harassment (personal harassment, sexual harassment, or harassment based on a human rights characteristic)
Discrimination
Threats and/or physical assault
Disorderly conduct
Theft and property damage
Refusing to identify or falsely identifying
The University expects all students, staff, and faculty to adhere to the University's Respectful Working and Learning Environment Policy. According to this policy:
Every member of the University community has the right to participate, learn and work in an inclusive and respectful environment that is free from discrimination and harassment.
Individuals should feel free to come forward with concerns without fear of retaliation.
The University will act promptly to deal with allegations and take corrective action as required.
Students and community members must also follow the UWSA's Positive Space Policy while in UWSA spaces or at UWSA events. Disregarding these policies can lead to accusations of non-academic misconduct.
If you have a concern regarding another student, staff person, faculty member, or anyone else connected to the university community, or if you are accused of non-academic misconduct, you can contact the UWSA Vice-President Student Affairs (VPSA). Your VPSA is familiar with non-academic misconduct procedures and can guide you through your options. The UWSA works to ensure that students know their rights, are safe, and can confidentially seek guidance on finding support and figuring out next steps.
For assistance, please contact the VPSA at vpsa@theuwsa.ca
IMPORTANT LINKS: 
University of Winnipeg Policies and Procedures:
Respectful Working and Learning Environment Policy
Respectful Working and Learning Environment Procedures
Sexual Violence Overview
Sexual Violence Prevention Policy
Sexual Violence Prevention Procedures
Violence Prevention Policy
Violence Prevention Procedures
Accessibility Plan
Workplace Accommodation Policy
University of Winnipeg Students' Association Policy:
Event Positive Space Policy
REES (Respect, Educate, Empower Survivors)
REES is a simple, secure online reporting platform for sexual violence that is available to the University of Winnipeg campus community. 
REES allows an individual to Create a Record of an incident and choose from multiple reporting options including Anonymous Report, Connect to My Campus and Repeat Perpetrator Identification (RPI), as well as critical information about sexual violence policies and supports on campus and in the community. Learn more or Create a Record at uwinnipeg.reescampus.ca
ON AND OFF-CAMPUS RESOURCES
For UWinnipeg's list of on and off campus resources, click here.
On campus resources:
UW Sexual Violence Response Team 
204-230-6660  
UW Human Rights and Diversity Officer
204-988-7508
hrdo@uwinnipeg.ca
UW Student Counselling Services
204-988-7611
studentwellness@uwinnipeg.ca
Wellness Centre, 1st floor Duckworth Centre
UW Security Services
Emergency Number: 204-786-6666
General Office: 204-786-9272
Email: security@uwinnipeg.ca
Tip Line: 204-258-2930 or tips@uwinnipeg.ca
UW Accessibility Services and Deaf & Hard of Hearing Services
204-786-9771
accessibility@uwinnipeg.ca
Deaf or Hard of Hearing students may contact 204-786-9704 or t.rogowski@uwinnipeg.ca
1M35, 1stfloor Manitoba Hall
UWSA Vice-President Student Affairs
204-786-9780
vpsa@theuwsa.ca 
0R30, UWSA General Offices below Riddell Hall Cafeteria
SafeWalk and SafeRide
The Safewalk program (a partnership between UW and UWSA) will escort you to your car or bus stop within a one-block radius of the university. The UW's Saferide program will drop you off within the boundaries of William Avenue to the north, Assiniboine Avenue to the south, Sherbrook Street to the west and Main Street to the east.
204-786-9272
Security office, first floor Centennial Hall
safewalk@theuwsa.ca
 Off campus resources:
Klinic Sexual Assault Crisis Program 
204-786-8631 (Crisis Line)
1-888-292-7565 (Toll Free in Manitoba)
204-784-4049 (Sexual Assault intake for in-person counselling)
870 Portage Avenue
Sexual Assault Nurse Examiner  
204-787-2071
Health Sciences Centre, Emergency Department
700 William Avenue
Winnipeg Police Sex Crimes Unit 
204-986-6245 or 911
Heart Medicine Lodge/Ka Ni Kanichihk 
204-953-5820
455 McDermot Avenue
admin@kanikanichihk.ca
Sage House (Mount Carmel Clinic) 
204-943-6379
886 Main Street
Legal Help Centre
Free drop-in clinics for those with family incomes under $50,000 per year.
204-258-3096
202-393 Portage Ave. (2nd floor at the west end of Portage Place mall, above Staples)
Drop-In Hours:Tuesdays and Thursdays, 1:00 – 4:30 p.m.