UWSA Breaks Ground on Important Daycare Expansion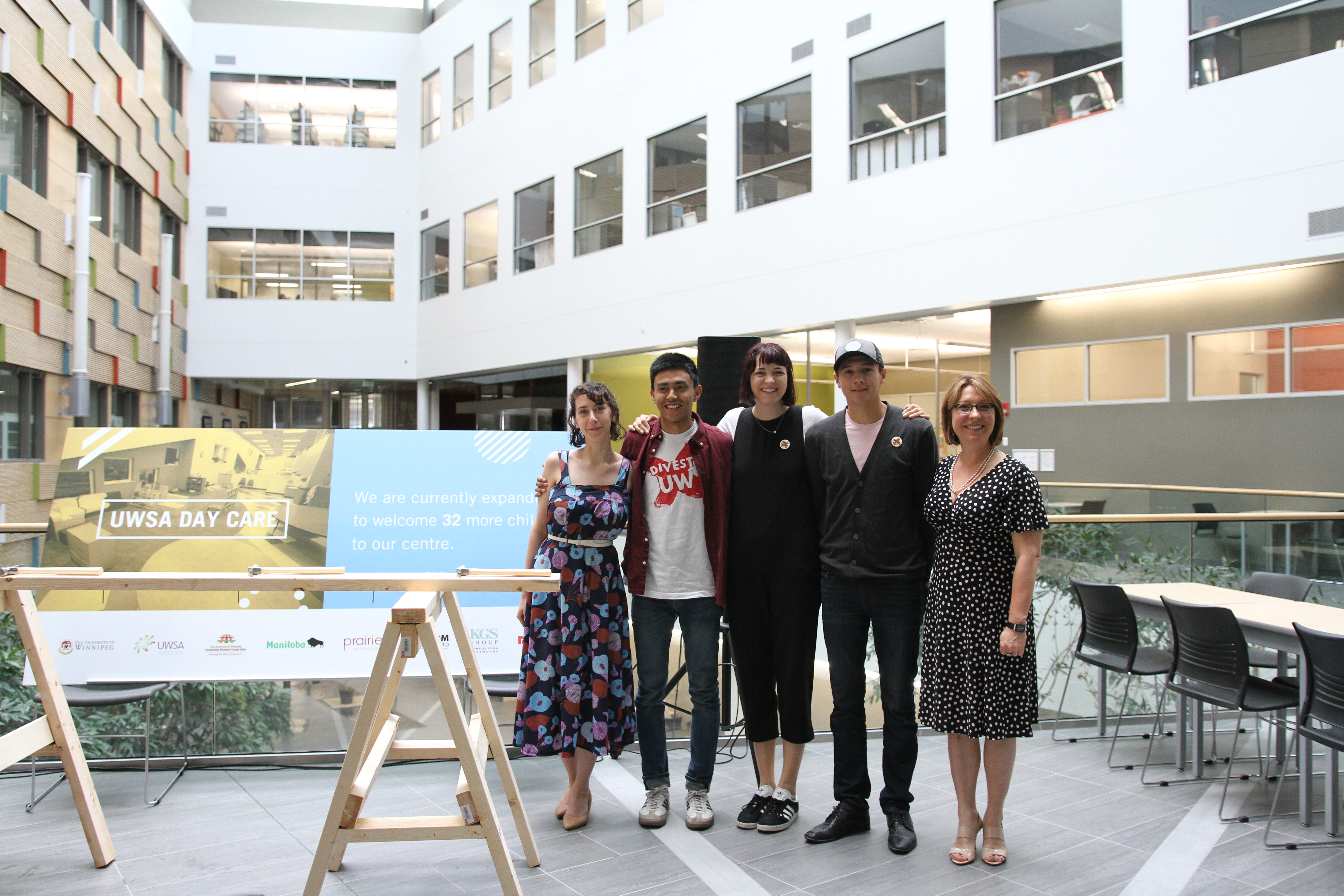 Construction is set to begin on an expansion that will welcome 32 new children and nine new employees to The University of Winnipeg Students' Association (UWSA) Day Care. The day care expansion will help improve access to on-campus childcare for University of Winnipeg students, faculty, staff, and community members.
"As the students' association, we are proud to own and operate a daycare which is an essential service for student parents," said Laura Elsie Garinger, President, UWSA. "Students continue to make accessible childcare on campus a priority and we are committed to removing barriers to postsecondary education for all students."
Construction on the 2,370 square foot expansion begins this month and is expected to be completed in November 2017 — the daycare's operations will not be affected during construction. The $1.165 million project is funded by the Province of Manitoba, the UWSA, and UWinnipeg.
"Our government's goal is to create a modern, efficient early learning and child care system and we're pleased to partner with projects like this that will make safe, quality child care more accessible," said Minister of Families Scott Fielding. "Earlier this year, we announced more than $6 million to fund 15 community-based capital projects and create up to 739 licensed spaces. This expanded on-campus day care is one of those projects and we know it will be a huge asset on campus and for the entire community."
The expansion will add 20 new infant spaces and 12 new preschool spaces to the UWSA Day Care; as well as eight new early childhood educator (ECE) positions, and one new supervisor ECE position.
"UWinnipeg is dedicated to creating pathways to postsecondary education for traditionally underrepresented students, and that includes student parents," said Dr. Annette Trimbee, President and Vice-Chancellor, UWinnipeg. "The UWSA Day Care is a critical resource for those students and this expansion is an important step in meeting the growing demand for childcare on our campus and in our community."
The UWSA has operated a daycare on campus for nearly 30 years and the current expansion project has been in the works since 2015. The UWSA Day Care is a provincially licensed, not-for-profit centre for children between 12-months and five-years.
The expansion project is managed by the University of Winnipeg Community Renewal Corporation (UWCRC). The design and construction team includes Prairie Architects Inc., Manshield Construction, Wolfram Engineering, and the KGS Group.
The new day care expansion meets all of the minimum energy performance requirements of the Manitoba Energy Code for Buildings and Manitoba Hydro Power Smart program.
UWSA Day Care features:
The daycare is located next to McFeetors Hall: Great-West Life Student Residence, allowing for a holistic approach to meeting family needs in one location.
The facility includes a green, natural, fenced outdoor play area.
The daycare population comes from students (50%), community (25%), and faculty and staff (25%).
The centre currently has 96 child care spaces.
Standard provincial fees apply. Low-income students are eligible for subsidy through the Manitoba Child Care program.
In November 2011, the building achieved LEED Silver status from the Canada Green Building Council.
MEDIA CONTACT
Eva Wasney, E-Communications Coordinator, The University of Winnipeg
P: 204.988.7129, E: e.wasney@uwinnipeg.ca
Cleo Leslie, Communications Manager, The University of Winnipeg Students' Association,
P: 204.786.9867, E: communications@theuwsa.ca
Comments?