Week of Action
March 23-29 is Divest UWinnipeg: Digital Week of Action. Take one action a day from the safety of your homes to educate yourself, build awareness, support divestment and call on University of Winnipeg Foundation to withdraw it's funds from fossil fuels.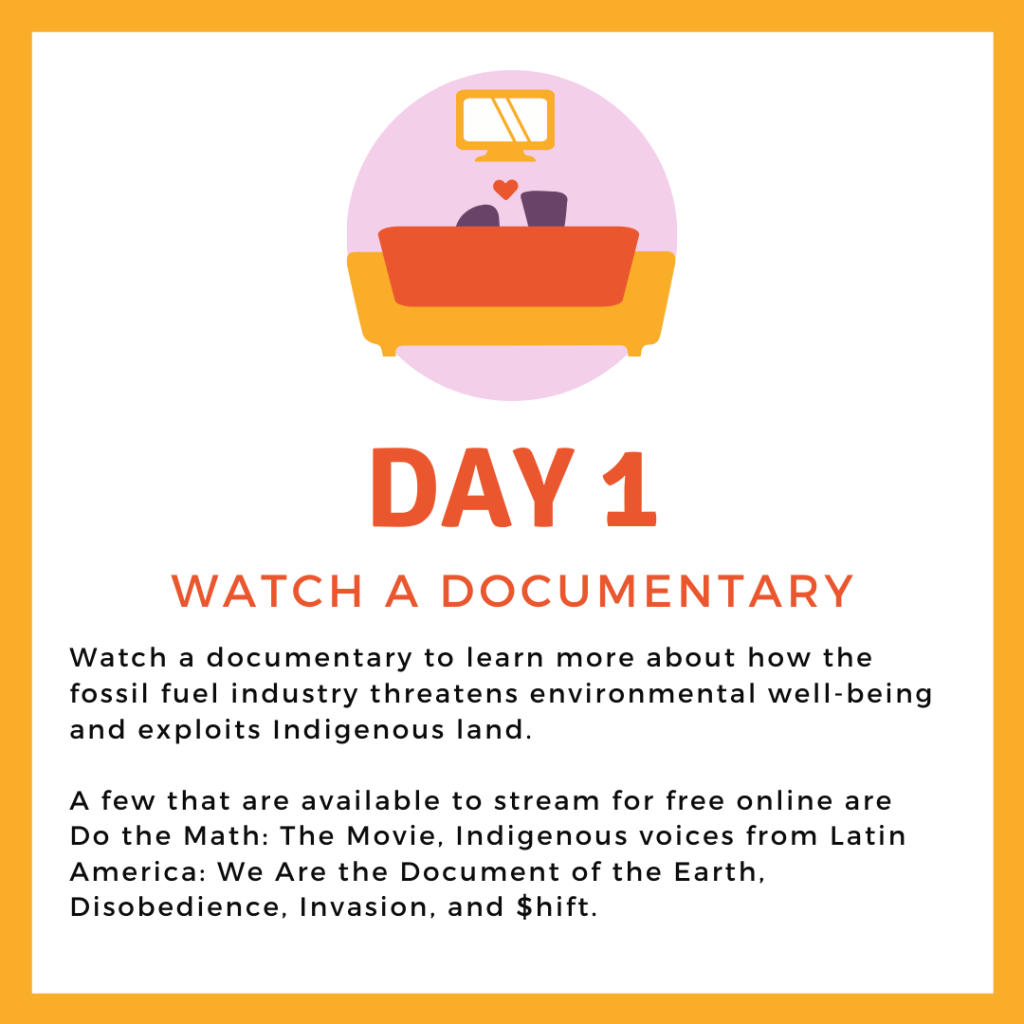 DAY 1: WATCH A DOCUMENTARY
Watch a documentary to learn more about how the fossil fuel industry exploits Indigenous land and its effects on the earth and the environment. Here are some that are available to stream for free online:
DAY 2: LISTEN TO A PODCAST
Learn more about why divestment is necessary for a sustainable and Indigenized campus and world.

DAY 3: ATTEND A VIRTUAL DIVESTMENT MEETING
We meet every Wednesday through Zoom at 12.30! Follow us on Facebook and Instagram @uwinnipeg.divest for the latest!
Click the link below to join the Divest UW Zoom Meeting – March 25
12.45 PM – Part 1
https://us04web.zoom.us/j/857920656
Meeting ID: 857 920 656
1.15 PM – Part 2
https://us04web.zoom.us/j/150120239
Meeting ID: 150 120 239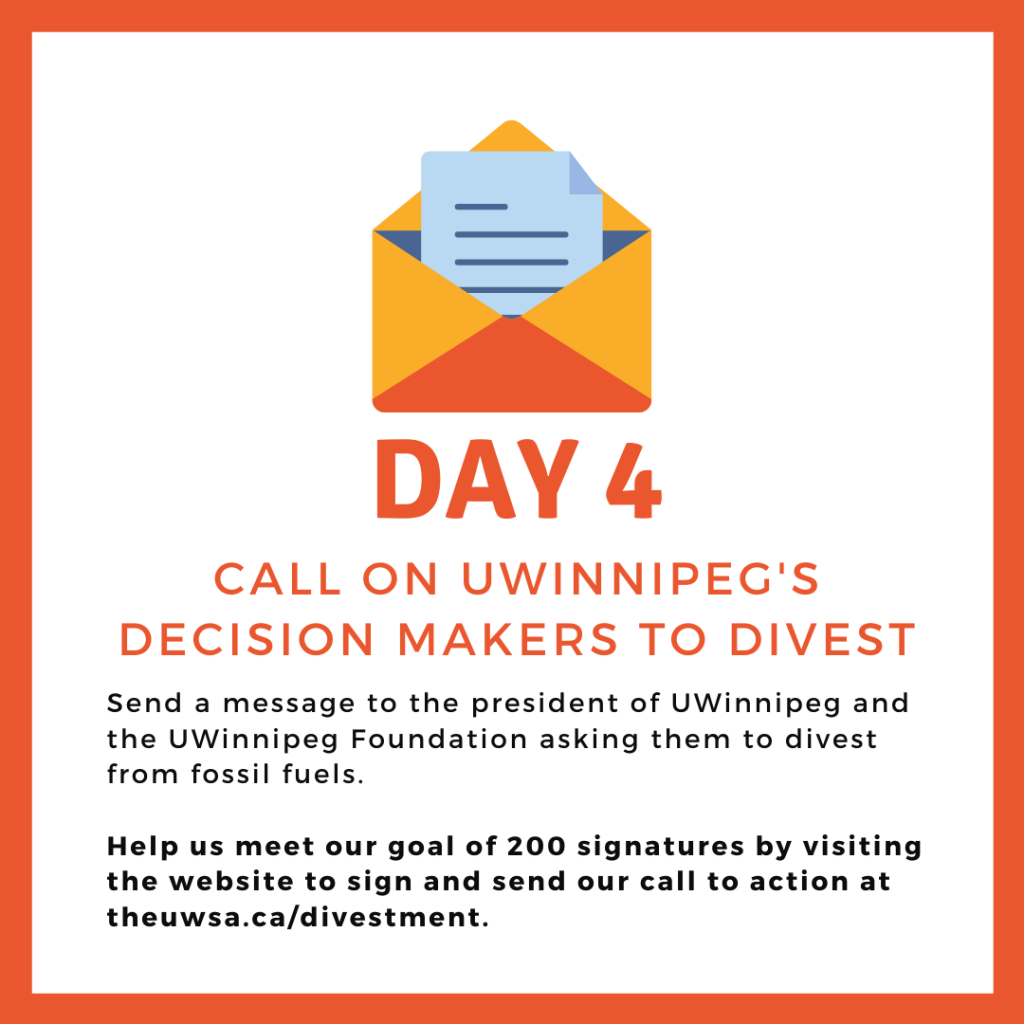 DAY 4: CALL ON UWINNIPEG'S DECISION MAKERS TO DIVEST
Send a message to the presidents of UWinnipeg and the UWinnipeg Foundation asking them to divest from fossil fuels. Help us meet our goal of 200 signatures by visiting the website to sign and send our call to action at theuwsa.ca/divestment.
TAKE ACTION NOW!

DAY 5: SPREAD THE WORD
Tell a friend, share on social, gather support. Build awareness about Divestment by sharing with as many people as possible. Like, share, follow and comment @uwinnipeg.divest.

DAY 6: MAKE A DIVESTMENT MEME
Make a meme and send it to us so we can share it with others in the Divestment Page. Use Imgflip Meme Generator or MakeaMeme.org to create true works of art!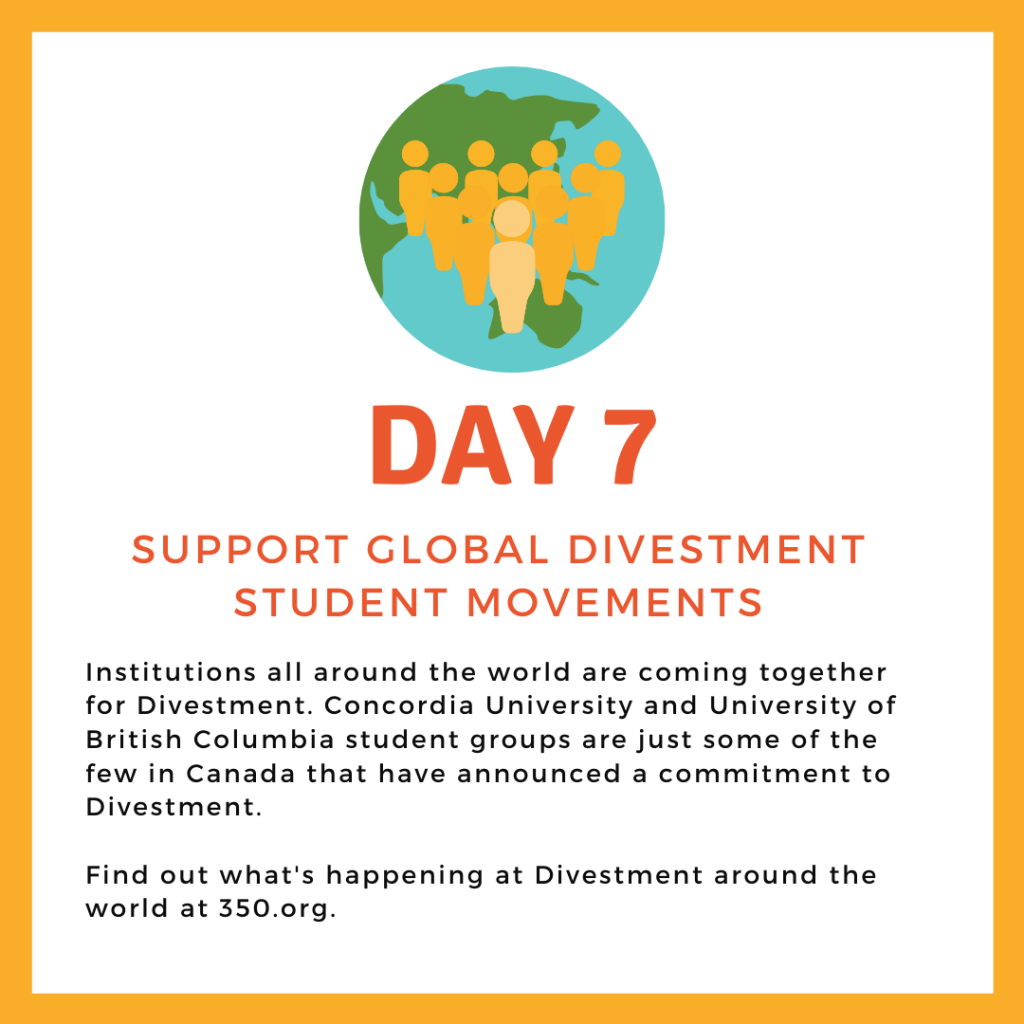 DAY 7: SUPPORT GLOBAL DIVESTMENT MOVEMENTS
Institutions all around the world are coming together for Divestment. Concordia University and University of British Columbia student groups are just some of the few in Canada that have announced a commitment to Divestment. Find out what's happening at Divestment around the world at 350.org.
Want to get involved? Email us at pres@theuwsa.ca with your questions!