September 3rd, 2020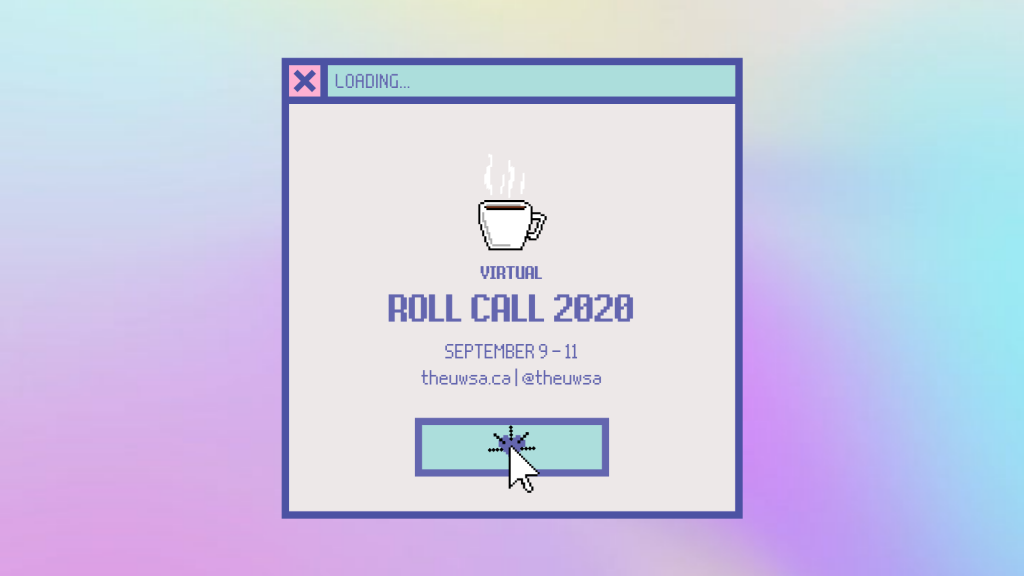 Roll Call is UWSA's annual back-to-school event in September. This year, we're celebrating the start of the school year by bringing Roll Call to the safety of your screens. From September 9 – 11, Join us for three days of virtual events and give-aways on our social media and website.
Get your laptops and phones ready, check your WiFi networks, gather your friends, and join us for a host of fun and engaging online events including:
All programming is FREE for students and community members but students may need to pre-register for some events. All are welcome!
Follow our event on Facebook here and follow us on Instagram and Twitter @theuwsa for updates! 
Click this link to Pre-Register for each event!
Click here to sign up to pick up your free Roll Call Swag Bag!
SCHEDULE
Wednesday, September 9
🤸Morning Move w/UWinnipeg Athletics
9am – 10am | Zoom + Facebook Live
🎁A Giveaway A Day!
All Day
🛍️Free Swag Bag Pickup
11am – 2pm | The University of Winnipeg
🎨Vision Board Workshop w/Rising Strong
5pm – 7pm | Zoom – Register below for link
🧩JackboxTV Trivia Game Night
8pm – 10pm | Zoom
Thursday, September 10
🤸Morning Move w/UWinnipeg Athletics
8am – 9am | Zoom + Facebook Live
🎁A Giveaway A Day!
All Day
🛍️Free Swag Bag Pickup
11am – 2pm
The University of Winnipeg
🎨Indigenous Beading Workshop w/Monias Beads
5pm – 7pm
Zoom: Register to receive link
🎬Roll Call x UWpg Film Fest Shorts Screening
8pm – 10pm
Facebook Live
Friday, September 11
🤸Morning Move w/UWinnipeg Athletics
9am – 10am | Zoom + Facebook Live
🎁A Giveaway A Day!
All Day
🛍️Free Swag Bag Pickup
11am – 2pm
The University of Winnipeg
🎨Cooking with Miss Assuma Gender: Uni Edition!
5pm onwards
Facebook Live and IG TV
🎉Roll Call Digital DJ Afterparty
8pm – 10pm
Facebook Live + IG Live + Zoom (link to come soon)
Questions? Reach us at events@theuwsa.ca
Please review our UWSA Events Safer Space Policy