University of Winnipeg Young New Democrats (UWYND)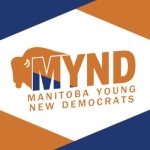 The UWYND is a group of progressive students working to engage and advocate for young people in the political process. We hold meetings and events open to all University of Winnipeg community members meant to encourage youth participation with the Manitoba NDP and Canada's NDP.
Membership: Anyone can join. Membership is open to everyone in the University of Winnipeg community. To become a member, simply join our discord server to be put in contact with other members and find the latest information on all upcoming events and meetings.
Comments?