UWSA Spotlight Launch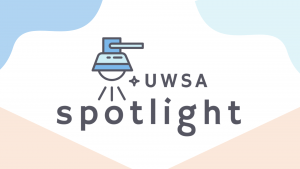 UWSA Spotlight is an exclusive Instagram platform to highlight the activities and events planned by registered student groups.
Each week a registered student group can apply to do a @uwsa.spotlight account takeover from Monday  – Saturday by emailing a.nguyen@theuwsa.ca. In your email; please specify the name of your student group, logo (if any), group's social media accounts or website, and the name and contact details of the group members planning to manage the account. Slots will be awarded on a first-come-first-serve basis. If there is a specific week you'd like to request, please mention that in the email as well.
Once approved, the group members will receive a secure password, and the dates the password is active. Your registered members will have full access to the Instagram account from Monday – Saturday to showcase what your group is up to!
For more questions or inquiries please email a.nguyen@theuwsa.ca
Make sure to enter the UWSA Spotlight Launch Giveaway! All the details are available on The UWSA Instagram. 
You can find a full list of groups on campus on the Student Group Page! 
Comments?